As Australia's housing affordability crisis worsens, governments are spending more on housing.
Victoria's Andrews government has announced a suite of reforms (such as boosting social housing and making planning processes faster) in an effort to get 800,000 extra homes in Victoria over the next decade.
Federally, the Albanese government's A$10 billion Housing Australia Future Fund, or HAFF, has passed the Senate with the help of the Greens, who supported the bill in exchange for another A$1 billion for social housing.
And this year's federal budget has expanded eligibility for the Home Guarantee Scheme so more people can buy a home with a smaller deposit.
But is Australia ready for a house construction boom?
Supply chain constraints say no. Ballooning construction costs and labour shortages have already claimed well-known building firms across the country. Delivering thousands of extra new homes in the coming years will not be easy.
Materials are hard to get
Building a home requires the right materials at the right time. But many building materials are in short supply.
Timber is a good example. The Master Builders Association highlights there are still pressures on timber and wood supplies.
This imbalance between supply and demand for construction materials can be traced back to the HomeBuilder program, which saw over 138,000 Australians applying for a grant to build or renovate.
The number of new dwellings commenced went from 41,855 in September 2020 to a peak of 67,306 in July 2021 – an increase of 60% in less than a year.
Typically, a spike in demand is met by imports. But soaring shipping costs during the pandemic conspired with restrictions to timber imports from Russia to send global markets into disarray.
Tim Reardon, Chief Economist for the Housing Industry Association reckons housing supply issues will not get any better soon. The federal government's National Housing Finance and Investment Corporation expects housing supply will only recover by 2025-26.
Demand pressures will continue. As it is, there are lots of unfinished homes around the country.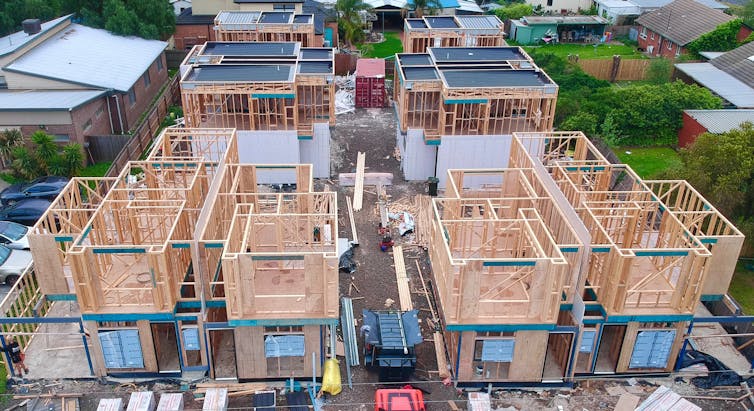 Labour and land are also in short supply
Building a home is labour intensive. Finding roofers, bricklayers, carpenters, tilers, landscapers and other construction workers has not been easy.
Australia's record low unemployment rates and a global rise in labour shortages have made it hard for builders to find the workers they need to finish jobs. Delays are common.
Some skill sets are in even higher demand, as workers flock to oil and gas, mining, and infrastructure projects. In Western Australia, for example, research has shown a shortage of construction managers, handy persons, and civil engineering professionals.
Then, there is the question of land. Greenfield projects (new developments on the city fringes) typically see fast approvals, fast sales, and good profit.
But suburbs alone cannot deliver the demand that is coming, thanks to the Housing Australia Future Fund and the other government initiatives.
There is a growing consensus more has to be done to increase urban density (in other words, apartments) next to mass transit hubs.
But this isn't easy either. Not-in-my-backyard (NIMBY) critics abound and demand for standalone houses remains strong as people pursue the "great Australian dream" of a large house on a large block of land.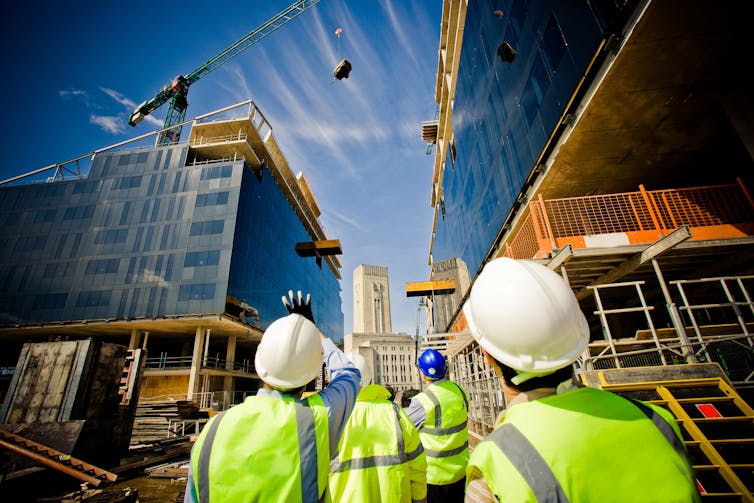 So how can we strengthen supply?
These issues in materials, labour, and land will not solve themselves. Pouring more money into the housing market without addressing supply shortages will only increase prices.
So, what initiatives can really address the housing supply crisis? Options include:
reducing import taxes on materials like construction timber and steel frames to boost short-term supply (while adhering to long-term strategies to address future demand)
supporting new technologies in the construction industry (the federal government's Accelerate Adoption of Wood Processing Innovation program, which enables the use of innovative technology for timber production, is one example)
increasing skilled migration to boost labour supply (Western Australia's Construction Visa Subsidy Program, which targets skilled migrants to the construction sector, shows what's possible)
embracing manufactured homes (modular construction, for example, can increase labour productivity, reduce costs and mitigate the effects of weather delays)
making it easier to release land for development, especially in urban areas (for example, the Victoria government is investing $40 million in red-tape busting measures).
The housing crisis in Australia is far from over. Without coordinated action to increase supply, government grants will have little practical effect on house affordability anytime soon.
Flavio Macau, Associate Dean – School of Business and Law, Edith Cowan University and Deepa Bannigidadmath, Lecturer, Edith Cowan University
This article is republished from The Conversation under a Creative Commons license. Read the original article.